Ontarians overwhelmingly support transparency in the bidding process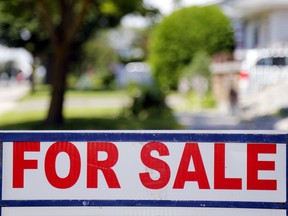 Content of the article
Blind bidding in real estate continues to attract the attention of governments and industry, with frustrated buyers wary of a practice that forces them to bid while ignoring what others have offered.
Content of the article
The federal government has proposed limiting or banning the practice, but some in the real estate industry believe most Canadians prefer the status quo of blind bidding, and they now have data to back it up.
The Ontario Real Estate Association (OREA) recently released survey results stating that 60% of Ontarians "believe homeowners have the right to sell their homes by whatever method they think is best."
Content of the article
Tim Hudak, chief executive of OREA, opposes the idea of ​​"denying millions of hard-working families the choice of how to sell their homes by banning the traditional bidding process or auctions at blind".
But further analysis of the data reveals more nuanced results, where most Ontarians support the rights of buyers and sellers.
Content of the article
Most survey respondents (87%) believe that homeowners "should be able to sell their homes in whatever way they think is best for them", but 77% also support the idea that "potential buyers should be able to know what bids have been made on a home prior to bidding.
Thus, two clear messages emerge from the OREA survey.
First, Ontarians support the right of sellers to decide how and to whom they sell their property. But they don't exclusively favor sellers over buyers and overwhelmingly support transparency in the bidding process.
Deepen the investigation of 1,500 Ontario adults, conducted in early May by Abacus Data, a market research company. Note that the data has been weighted to match the population of Ontario based on age, gender, education and location.
Content of the article
One would have naively assumed that homeowner and renter preferences would differ on how homes are bought and sold. But the survey reveals similar responses by both groups.
For example, 91% of landlords think it's a very good idea, a good idea, or an acceptable idea for landlords to decide how to sell to their advantage, while 83% of tenants also support the idea.
But do tenants prefer offer transparency more than landlords? Not a lot. The survey found that 76% of owners and 77% of renters support the idea that all potential buyers should know what others have offered before bidding.
Who is not so enthusiastic about the transparency of offers? Those who believe that the Ontario government should place a low priority on housing affordability.
Content of the article
By comparison, a large majority of those who think the government should make housing affordability a very high, high, or moderate priority support deal transparency.
Support for candidacy transparency was also similar across political divisions in Ontario: 82% of Ontarians who voted for the NDP and 80% of Liberal voters in 2018 supported candidacy transparency, as did 76% of those who voted for the NDP. voted for the Conservatives.
Home sales in Toronto are slowing, but not when it comes to homes over $1.5 million

Blind auctions expand into suburbs, but lack of data darkens picture

Transparency should not be optional in blind auctions for houses

How Millennials Are Using Technology to Compete in Tight Real Estate Markets
Content of the article
The survey also revealed that most landlords and renters also frown on the idea that "homeowners are forced to sell their home to the highest bidder at an auction".
Responses were similar across the political spectrum, with most of those who voted for the three major parties in Ontario's last election opposing the idea of ​​restricting homeowners' choices at auction.
The results suggest that a balance between the rights of buyers and sellers should be adopted. Most Ontarians support buyers' right to sell their properties as they see fit, but most also support bid transparency to let buyers know what others have offered before they bid.
Governments and the real estate industry should heed what voters are telling them: don't just protect the rights of sellers; buyers' rights are equally important.
Murtaza Haider is Professor of Property Management and Director of the Urban Analytics Institute at Toronto Metropolitan University. Stephen Moranis is a veteran of the real estate industry. They can be contacted on the Bulletin Haider-Moranis website, www.hmbulletin.com.